PetMatch
Website dedicated to matching humans to their perfect pet and connecting them to the pet community services and events.
Challenge
Connecting forever families to adoptable pets in local shelters
Solution
With millions of animals awaiting adoption in shelters and foster homes, PetMatch makes it easier to connect pets to their humans.
My Role
Lead Designer
Team + Stakeholders
CPO, 2 Developers, Rescue organizations, people looking for pets
Research
Interviews
3 rescue organizations (2 coordinators and 1 foster volunteer)

Inquired on how they determine good fits for their rescues

Online Poll
Conducted an informal online poll on the decision-making process on selecting a pet (process, goals, and requirements)

What I learned...
Many people research online for specific pets without realizing they may be more inclined to a completely different animal

Similar websites fall short on guiding people through the process

Adopting a pet is a highly emotional and confusing experience

Meet Lauren
For the first approach, I created a lightweight persona, Lauren, to guide my design decisions.
Lauren is a mother of three boys, all under the age of 7, who have been asking for a pet for quite some time. She and her husband have decided it's time for a family pet but aren't sure what makes sense for their family.
Design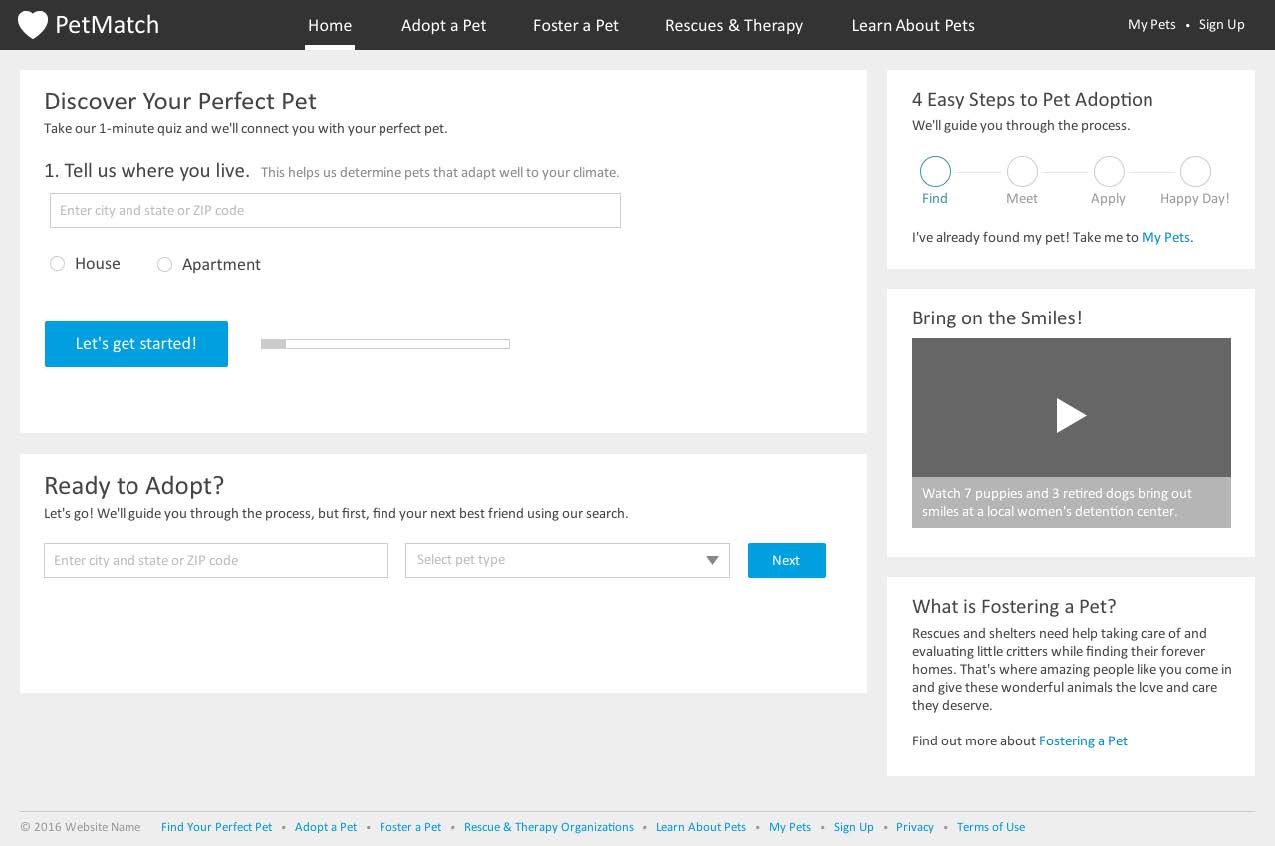 Process
Research
Conducted an informal online poll

Interviews

Competitive Analysis

Create Design Goals
Create an experience that speaks to the emotional bond between a pet and their humans

Make it simple to determine which pet is right for the prospective pet parent

Guide the human through the process of pet adoption online and offline

Showcase other pet connection opportunities to promote pet adoption (secondary goal)

Design the Experience
Brainstorm ideas with users

Create a high-level sitemap, scenarios, and user workflows (iterate)

Sketch and design wireframes - prototype for usability testing, if necessary (iterate)

Create the visual design and overall language (iterate)